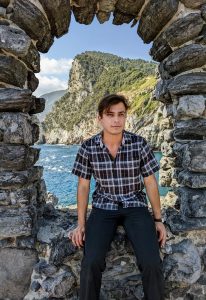 About
I'm a PhD candidate and Fulbright scholar in the Department of Philosophy at the University of California, Irvine. Before that, I did my MA in Philosophy at Univerdad de los Andes (Bogotá, Colombia) and before that I received a BA in Philosophy from the Universidad de Antioquia (Medellín, Colombia). 
I work mostly on epistemology and issues at the intersection of epistemology and moral responsibility. Here's my CV. 
Dissertation
Committee: Duncan Pritchard (chair), Sven Bernecker, Aaron James, Dana Nelkin (UCSD)
As Luck Would Have It: Luck, Ignorance, and Moral Responsibility
Does luck lead to ignorance? According to mainstream views, either ignorance is lack of knowledge and epistemic luck always leads to ignorance, or ignorance is lack of true belief, and never does. As this dissertation shows, however, the views above are vulnerable to compelling counterexamples which show that luck only sometimes leads to ignorance. This opens the door to develop a more nuanced view of ignorance in terms of epistemic access to the world, irreducible to either knowledge or true belief. Is luck incompatible with moral responsibility? Philosophers who see a tension between the fairness of morality and luck have assumed that luck is lack of control. But by understanding luck modally (as what happens and yet could have easily not happened), we can not only dissolve the tension between luck and the fairness of morality, but also develop a new solution to the moral luck problem: the effects of luck on our actions don't undermine our ascriptions of moral responsibility.
Publications
In Progress (available upon request)
Paper proposing a version of the modal account of luck that avoids problems that existing
modal views of luck face and come from Lackey's Buried Treasure cases.
Paper on ignorance and the epistemic condition for moral responsibility, in which I argue
that the type of non-ignorance relevant for moral responsibility is neither factive
nor modally robust, so that type of ignorance is neither lack of knowledge nor of true belief.
Paper on the moral luck problem: I argue, from within modalism about luck, that in order to
solve the moral luck problem paradox we should accept the phenomenon of moral luck.
This, in turn, doesn't make moral responsibility evaluations unfair or inappropriate.
Paper defending a new account of ignorance in epistemology: the Access View. 
It defines ignorance as a way of forming (or failing to form) a belief that is suboptimal
given one's exercise of epistemic agency. Unlike mainstream views of ignorance, the Access View
captures two important epistemological desiderata for a good account ignorance: it explains
the relation between ignorance as an epistemic trait of an agent and ignorance as a state
that takes a proposition as its object; and it explains the evaluative aspect of ignorance.
Selected presentations
Peer Reviewed
"Ignorance, Access, and Epistemic Responsibility" (2022). 11th Vienna Forum
for Analytic Philosophy Graduate Conference. University of Vienna.
"The Modal Moral Luck Problem" (2022). Beyond Free Will. Vilnius University, Lithuania.
"Ignorance, Access, and Epistemic Responsibility" (2022). Workshop for Young Researchers
of the Francophone Society for Analytic Philosophy. University of Geneva.
"Ignorance, Excuses, and Modality" (2021). APA Pacific Division Meeting.
"Ignorance Isn't Modal" (2021). APA Eastern Division Meeting.
"Ignorance and Epistemic Luck. Or Why Ignorance is not Lack of Knowledge" (2020).
Workshop on Luck, Risk and Competence. Universidad de Sevilla, Spain.
Invited
"Epistemología de Bisagra y (anti)relativismo" (2021). VII Seminario en Historia y
Filosofía de la Ciencia: Universidad de Antioquia, Medellín, Colombia.
"Suerte Epistémica e injusticia epistémica" (2020) Desacuerdo e
Injusticia Epistémica. Universidad EAFIT, Medellin Colombia.
"Ignorance, Lack of Knowledge, and Excuses" (2020). A Socially Distant
Open Topic Conference. University of California, Irvine
Contact
Email: piedraho@uci.edu
Office: HIB 72
University of California, Irvine
Department of Philosophy
85 Humanities Instructional Building
Irvine, CA 92697–4555